So, I decided to make Mi Amigos Bolas, (aka My Friend's Balls). I guess now, I should've called them Mi Enemigos Bolas (My Enemy's Balls). I rarely ever cook with beef so I decided to use ground turkey instead of beef. One pound.
Thursday, I started with a package of Mexican cornbread. Add 1 egg and milk (or use package directions). I baked my cornbread a couple of days before to allow it to dry out some.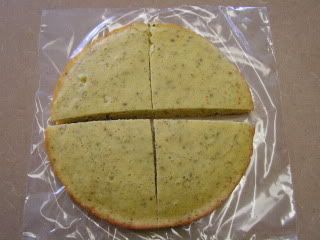 Skip to Saturday… I gathered up my ingredients and arranged them for a picture. Not realizing I had left out the chicken bouillon cubes and the egg. Rather than redo the picture, I just decided to let them star in their own photo.
First I filled my dutch oven ¾ of the way full and dropped in a couple of bouillon cubes. I started my pot of water to boil. Then, cut open the tube of ground turkey and plopped it into my bowl. Then I added the egg. Next, I threw about ½ of my cornbread into my blender and pulverized it into crumbs and dumped it into the bowl.
Next I added ½ a can of red enchilada sauce (about ½ a cup). I then threw in the can of green chilies and my spices: 2 tsp. chili powder, 2 tsp. ground cumin, 1 tablespoon dried minced onions, ½ tsp of garlic powder. I forgot to add salt but, oh well, screw it. I then gingerly reached my hands into the meaty mixture and began squeezing and caressing the gooey blend of ingredients. After much squishing and stroking of the meat I realized it was much too wet. So I had to pulverize the other half of the cornbread to add to the bowl. Only then did I realize I had left out the cheese. I added in about half a package of Kraft Natural Mexican blend cheddar jack cheese. Then the meaty dough seemed perfect.
By this time, my pot was boiling so I gently began pinching the meat off and forming it into 1" balls. I cautiously dropped the balls into the boiling broth and watched them sink to the bottom of the pot. I set my timer for 10 minutes. I boiled about 18-20 balls at a time. NOTE: the balls swelled up tremendously during boiling!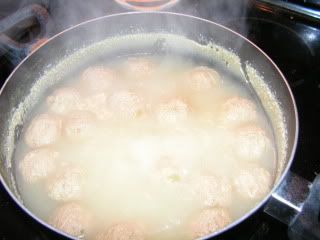 Meanwhile, I continued to roll the rest of the little balls. Once they began to float, I knew the meatballs were almost done. So once my timer went off, I ladled them out of the broth and dropped in some more. All in all, it made 52 meatballs. I had my husband, son and his friend give them a try and they absolutely loved them! I told my husband I should've called them enchilada balls because I used some of the same ingredients in them as I do my enchiladas. Next time I might grind up some corn tortillas and try them instead of the cornbread. I ate about six of the yummy balls of Mexican goodness.
Not long after that, I threw them up. But it wasn't the balls fault. Nobody else threw up, so I must've come down with a stomach bug. Gross.
This recipe in a traditional format:
Mi Amigos Bolas
1 pkg. Mexican Style Cornbread Mix (plus ingredients listed on package)
1 lb. lean ground turkey (I used Honeysuckle White 93/7)
1 cup Kraft Natural Mexican Blend cheese
1 sm. can green chilies
1 egg
½ c. red enchilada sauce
1 T. dried minced onions
2 tsp. ground cumin
2 tsp. chili powder
½ tsp. garlic powder
2-3 cubes chicken bouillon
Fill dutch oven ¾ way full with water and drop in chicken bouillon cubes. Bring to boil. Using blender or food processor, make cornbread into crumbs. Mix ground turkey, cornbread crumbs, cheese, spices, egg, enchilada sauce and chilies. Form into 1" balls. Drop into mixture and boil for 10 minutes.
Makes approximately 52 meatballs.
Nutritional info:
Serving size: 1 meatballs
Servings per recipe: 52
Calories: 75
Total Fat: 2.3g
Cholesterol: 18mg
Sodium: 76mg
Total Carb: 2g
Protein: 2g